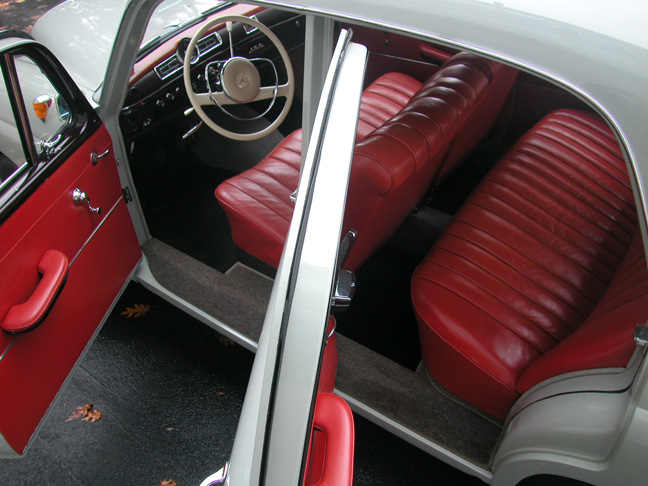 Back <--> Next Photo Mercedes-Benz 190b sedan, 1960. light grey with red leather. 1210101001858. column-shift 4-speed transmission. Odometer: 63,452.

The 190b was the last of the small, "ponton" series sedans. These were Mercedes' entry-level cars, and many were used as taxicabs well into the 70's.

This car was an "export" model, fitted with red leather and a touch of wood trim for the USA market.
We believe that the mileage is just 63k. The car had an expensive restoration by renown 190SL expert, Bruce Adams, in 1993-94. It was a multiple Mercedes-Benz Club of America concours winner. The car has retained that solid-but-supple Mercedes ride, and is capable of cruising quietly with four aboard. Fresh suspension parts, rubber bushings, and Acoustimat sound-deadening materials have enhanced the new-car feel. The lights are bright, the heaters function, the windows roll up precisely, the doors close with authority. Everything was restored but the engine, transmission, and rear axle.

I decided to make this wonderful old car into a superb highway cruiser with further restoration and some subtle upgrades. We added three-point retractable seatbelts, Koni shocks, fresh radial tires, a rear axle restored with a taller 3.70:1 ring and pinion for more relaxed highway cruising, and 190SL brakes. We installed a balanced and blueprinted 5-main bearing, overhead-cam 2-liter four cylinder engine from the Mercedes 200 sedan.

All of this improved the level of quiet, comfort, performance and safety, and allows cross-country jaunts in the fast lane.

Not for sale at this time.